HYBE's fan platform Weverse to establish US, Japan units Move coincides with Korean entertainment giant's globalized artist base
Translated by Ryu Ho-joung
공개 2022-05-18 08:15:26
이 기사는 2022년 05월 18일 08:13 더벨 유료페이지에 표출된 기사입니다.
South Korean entertainment giant HYBE will expand its fan community platform business into the US and Japan as its artist base is getting more geographically diverse.
HYBE decided to establish Weverse Company's units in Japan and the US at its board meeting held in late April, according to industry sources. The two new units, Weverse Japan and Weverse US, will be formed in the second quarter, which the company expects to help it achieve "sustainable growth".
Weverse Company, which was created in July 2018 as a subsidiary of HYBE, operates fan community platform Weverse. It also operates Weverse Shop where fans can buy official merchandise and exclusive items related to their favorite artists. Weverse Company has generated over 200 billion won ($156.5 million) in revenue annually since 2020 when it began disclosing its audited financial statements.
In January 2021, the fan platform operator agreed to acquire South Korean internet giant Naver's live streaming service, V LIVE, for 200 billion won to further scale. After the acquisition closed, Naver invested 411.9 billion won in Weverse Company to secure a 49% stake.
Weverse Company is collaborating with Naver to launch Weverse 2.0, a renewed version that integrates V LIVE's streaming functions with Weverse, later this year. "We will expand our artist base for the fan community platform beyond K-pop stars to include artists famous in various countries like the US and Japan," said the company's chief executive Choi Jun-won.
The efforts by Weverse Company to expand into overseas markets come after HYBE's acquisition of Ithaca Holdings last year. The US-based media company is behind well-known musical artists such as Justin Bieber and Ariana Grande.
About two-thirds of HYBE's total revenue came from overseas markets in the first three months of this year, especially from Asia and North America.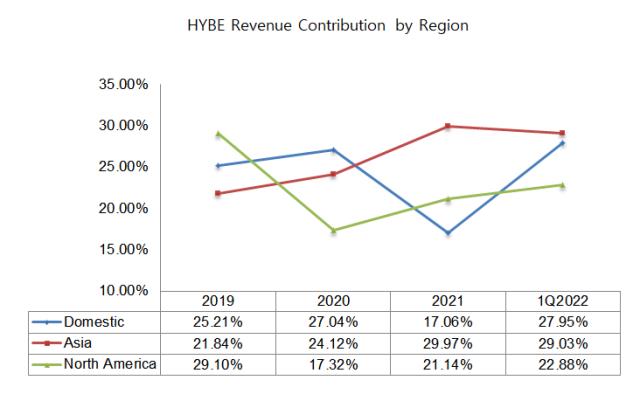 Weverse started only with the groups BTS and TXT in 2019. But now the number of artists hosted by the platform is expected to increase to 70 by the end of this year, including 30 artists added with the acquisition of V LIVE.
It is likely Weverse Company's US and Japan units will also play a role in marketing new artists there. HYBE America is working with Universal Music Group to develop a new female pop group. HYBE Japan is preparing for the debut of a new boy group. (Reporting by Seul-gi Kim)
< 저작권자 ⓒ 자본시장 미디어 'thebell', 무단 전재 및 재배포 금지 >
best clicks
Translated by Ryu Ho-joung 의 다른 기사 보기