Kakao Mobility steps up global expansion as Covid spread slows Kakao's taxi-hailing unit partners with Miki Taxi for Guam service
Translated by Ryu Ho-joung
공개 2022-05-19 07:55:27
이 기사는 2022년 05월 19일 07:53 더벨 유료페이지에 표출된 기사입니다.
Kakao Mobility, the taxi-hailing unit of South Korea's Kakao Corp, is stepping up its global expansion plans as a slowdown of coronavirus spread increases expectations for stronger overseas travel demand.
Kakao Mobility announced a partnership with Miki Taxi, Guam's biggest taxi operator, on Tuesday to provide taxi-hailing services in one of the most popular holiday destinations.
Miki Taxi, which operates about 40% of all taxis in Guam, offers taxi-hailing and car rental services. Through the partnership, Kakao Mobility plans to provide taxi-hailing services on the island via its Kakao T application starting the third quarter of this year.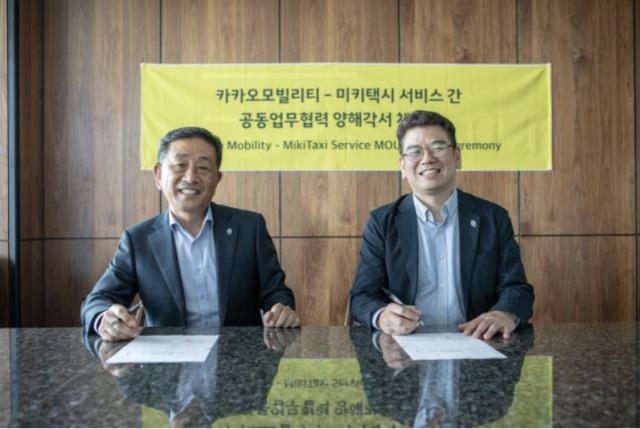 Kakao Mobility's entry into Guam marks the first time a South Korean mobility firm provides its platform services to both a local operator and users. Kakao Mobility has continued to update its app since the launch in 2015, introducing a payment function in 2017 and the artificial intelligence-based Smart Call service in 2018.
Guam's population is less than 170,000 but more than a million tourists a year from around the world visited the island before the Covid-19 pandemic. Guam is also a popular holiday spot among South Koreans as it takes four to five hours from Incheon to Guam on a direct flight. As the virus spread slows down, many expect travel demand to recover in the second half of this year.
The partnership between Kakao Mobility and Miki Taxi will allow Kakao T users to hail taxis in Guam through the existing app. The number of domestic Kakao T users exceeded 30 million last year.
Kakao Mobility also recently invested in London-based mobility platform provider Splyt. The UK firm is partnering with the world's major mobility companies like Uber, Lyft and Grab to provide connections for transportation services beyond their own markets through mobility roaming.
The partnership with Splyt, announced last week, will enable Kakao Mobility to offer its ride-hailing roaming services in seven major Southeast Asian countries starting May 19. The move comes three years after Kakao Mobility first introduced such services in Vietnam in 2019.
The efforts by Kakao Mobility to expand into overseas markets are in line with Kakao Corp's 10-year initiative called "Beyond Korea."
Kakao Mobility is preparing for an initial public offering, although the timeline is still uncertain. The company's global expansion plans will help build up its equity story. Kakao Mobility was value at more than 5 trillion won in its capital increase late last year and is estimated to be valued at more than 10 trillion won in the IPO. (Reporting by Seul-gi Kim)
< 저작권자 ⓒ 자본시장 미디어 'thebell', 무단 전재 및 재배포 금지 >
Translated by Ryu Ho-joung 의 다른 기사 보기