Daewoo Shipbuilding doubles down on reducing debt ratio Korean shipbuilder plans to start a process to find a new buyer soon
Translated by Ryu Ho-joung
공개 2022-04-07 08:11:03
이 기사는 2022년 04월 07일 08:09 더벨 유료페이지에 표출된 기사입니다.
Daewoo Shipbuilding & Marine Engineering's debt ratio has sharply increased over the past year due to a big net loss, as the South Korean shipbuilder is set to start a process to find a new buyer after a proposed deal with Hyundai Heavy Industries Group fell apart over antitrust concerns.
Daewoo Shipbuilding is getting consulting advice from the state-controlled Korea Development Bank, the largest shareholder of the company, after its planned acquisition by Hyundai Heavy was called off in January, industry sources said. It plans to work on a sale strategy soon to search for a new buyer.
One of the key obstacles to a sale is the company's high debt ratio. Its debt-to-equity ratio spiked to 379% at the end of 2021, from 167% a year ago and around 200% in 2019 when Hyundai Heavy had signed a deal to buy Daewoo Shipbuilding.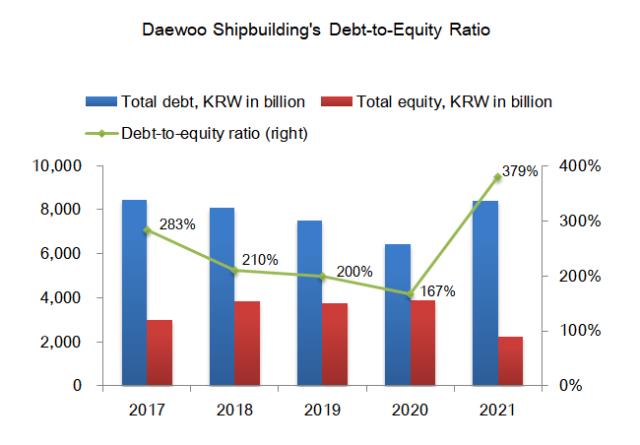 The company's total equity stood at 2.2 trillion won ($1.8 billion) at the end of 2021, significantly down from 3.8 trillion won a year earlier. This was largely due to 1.7 trillion won in net loss in 2021, which wiped out retained earnings and created an accumulated deficit of 1.01 trillion won.
A large increase in total debt, from 6.4 trillion won in 2020 to 8.4 trillion won in 2021, also lifted the debt-to-equity ratio. However, it was partly because of prepayments worth 800 billion won from customers.
Daewoo Shipbuilding received orders totaling $10.8 billion last year, surpassing its target of $7.7 billion. It has also secured orders worth $4.18 billion in the first quarter alone, which represents 47% of this year's target of $8.9 billion.
"We expect quarterly turnaround this year and annual turnaround next year thanks to a strong order book and rising shipbuilding prices, possibly reducing an accumulated deficit," an official at Daewoo Shipbuilding said.
However, the company could be hamstrung by rising prices of raw materials, especially thick steel plates which account for 20-30% of shipbuilding costs, as the war in Ukraine disrupts supply chains for key commodities.
The price of iron ore and hard coking coal was $159.85 a ton and $471.5 a ton, respectively, as of April 1, up 30.07% and 31.13% from the start of the year, according to data from the country's trade ministry.
"We are trying to defend profitability by raising prices of steel products and thick steel plates will hardly be an exception," said a source from the steel industry.
The country's shipbuilders set aside large loss provisions last year as thick steel plate prices soared by nearly 70%. About 76% of Daewoo Shipbuilding's net loss in 2021, or 1.3 trillion won, was attributed to loss provisions.
"It takes years until new orders lead to greater revenue but increased raw material costs immediately erode earnings," said the Daewoo Shipbuilding official. "Rising raw material prices are the biggest headwind for us at the moment." (Reporting by Yong-kyu Kang)
< 저작권자 ⓒ 자본시장 미디어 'thebell', 무단 전재 및 재배포 금지 >
best clicks
Translated by Ryu Ho-joung 의 다른 기사 보기